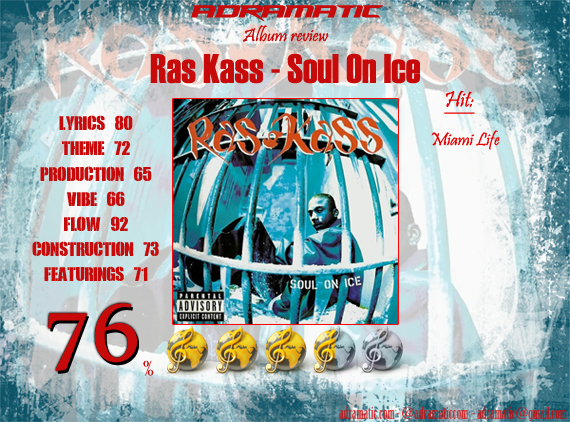 Bon album lyrical mais hormis Miami Life j'ai du mal avec les instrus.
On Earth As It Is
Cuz if my name ain't in the Book of Life I'm snuffing St. Peter (Do it)
Drinking the blood of Jesus Christ and pissing holy water
Like old baptist churches, I'm getting old bitches hysterical
Reelishymn
Ras Kass crache sa haine contre la société et le Hip-Hop qui privilégiait déjà à l'époque le mainstream.
The Evil That Men Do
Texte dans lequel il parle de son passé et de tout ce qui l'a conduit à être un mec pas fréquentable.
Il raconte son enfance dans le ghetto avec son père qui s'est tiré lorsqu'il a eu 12 ans, son oncle et son grand père buvaient et se frappaient dessus. Ce dernier frappait également sa grand mère et elle a en gardé les séquelles.
Il parle aussi qu'en 1981 il s'est mit du talc sur lui pour ressembler à un blanc car il pensait que c'était un péché d'être noir. Il continue à parler de l'ambiance raciste et des inégalités et qu'il comprend pourquoi les blacks rejoignent des gangs.
Plus tard il aura une fille dont il n'aura apprit l'existence que deux semaines après la naissance. Et il termine en racontant qu'en septembre 1990 il a causé un accident de la route parce qu'il était trop bourré, il a heurté une voiture et un des occupants est morts brulé vif, ce qui a valu à Ras Kass une peine de prison. Il en sortira en 1993 mais a dû suivre une période de mise à l'épreuve et rembourser les frais de justice.
If/Then
Fools lay claim to fly rhymes but I terrorize airlines
You ain't no cap peela for rilla
And for who you desire to kill you need more God than Zilla
You're so-called vicious, although
How they gonna be a menace when it ain't no men in it?
Oh, they womenaces (with clitorises)
Soul On Ice
Fuck up a rhyme so bad I leave the microphone abstinent
Nature Of The Threat
Chanson dans laquelle il explique aux blacks tout le mal et la violence dont l'homme blanc est responsable en retracant l'histoire du monde, des religions etc.
Tracklist:
| No. | Title | Producer(s) | Length |
| --- | --- | --- | --- |
| 1. | « On Earth As It Is… » | Lamont « Bird » Holdby and Ras Kass | 4:43 |
| 2. | « Anything Goes » | Lamont « Bird » Holdby and Ras Kass | 5:49 |
| 3. | « Marinatin' » | Battlecat | 4:05 |
| 4. | « Reelishymn » | Lamont « Bird » Holdby and Ras Kass | 4:27 |
| 5. | « Nature of the Threat » | Vooodu | 7:43 |
| 6. | « Etc. » | Lamont « Bird » Holdby and Ras Kass | 3:12 |
| 7. | « Sonset » | Michael « Flip » Barber, Michael Schlesinger, Ras Kass and Reno Delajuan | 6:00 |
| 8. | « Drama » (featuring Coolio) | Lamont « Bird » Holdby and Ras Kass | 3:46 |
| 9. | « The Evil That Man Do » | Vooodu | 6:10 |
| 10. | « If/Then » | Michael « Flip » Barber and Ras Kass | 4:50 |
| 11. | « Miami Life » | Michael « Flip » Barber and Ras Kass | 4:06 |
| 12. | « Soul On Ice » | Lamont « Bird » Holdby | 3:42 |
| 13. | « Ordo Abchao (Order Out of Chaos) » | Vooodu | 4:30 |
Hit:
Miami Life (81,39)
A écouter:
Reelishymn (78,94)
The Evil That Men Do (78,15)
Nature Of The Threat (77,25)
Détail des notes: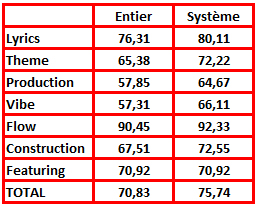 Les mots les plus utilisés: