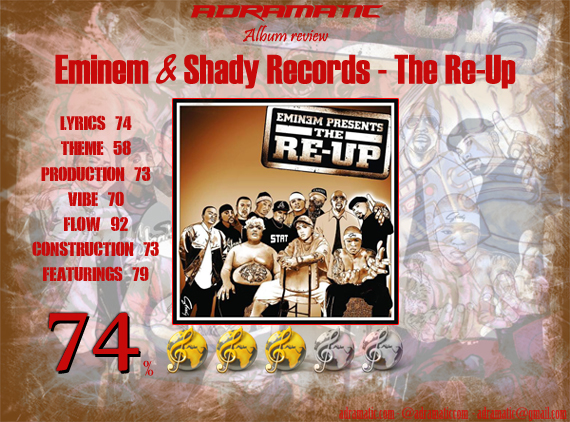 Mixtape assez décevante surtout quand on imagine à quel point ça pouvait être une tuerie monumentale et après avoir écouté la boucherie You Don't Know en premier single. Heureusement Eminem a relevé le niveau et Obie Trice a assuré mais hormis ça et quelques couplets c'est mauvais au mic. On rajoute des prods bidons pour la plupart fades et on obtient un projet qu'on n'écoutera pas beaucoup à moins d'être un gros gros gros fan de la tribu.
The Re Up
I carried Game's style for nine months and gave birth to it
Now I'm feeling like a proud father watching him do it
(50 Cent)
Jimmy Crack Corn
Eminem et 50 Cent s'adressent à leurs haters.
Whatever You Want
A hell raiser, I smack the skin off your man's face
So fast it'll leave acne on my hand when it land
(Swifty Mc Vay)
Public Enemy #1
Eminem craint d'être devenu l'ennemi public numéro 1 à cause de ses textes et pense que le FBI va essayer de l'assassiner.
Tracklist:
| No. | Title | | Producer(s) | Length |
| --- | --- | --- | --- | --- |
| 1. | « Shady Narcotics (Intro) » (Eminem) | | Eminem | 0:56 |
| 2. | « We're Back » (Eminem, Obie Trice, Stat Quo, Bobby Creekwater and Ca$his) | | Eminem, Luis Resto | 3:59 |
| 3. | « Pistol Pistol » (Obie Trice) | | Eminem | 2:25 |
| 4. | « Murder » (Bizarre and Kuniva) | | Eminem, Luis Resto | 2:10 |
| 5. | « Everything Is Shady » (Ca$his) | | Rikanatti | 4:29 |
| 6. | « The Re-Up » (Eminem and 50 Cent) | | Eminem | 2:57 |
| 7. | « You Don't Know » (Eminem, 50 Cent, Lloyd Banks & Ca$his) | | Eminem, Luis Resto | 4:17 |
| 8. | « Jimmy Crack Corn » (Eminem and 50 Cent) | | Eminem, Luis Resto | 3:54 |
| 9. | « Trapped » (Proof) | | Eminem | 0:58 |
| 10. | « Whatever You Want » (Swifty McVay and Mr. Porter) | | Witt and Pep | 2:48 |
| 11. | « Talkin' All That » (Ca$his) | | Rikanatti | 4:05 |
| 12. | « By My Side » (Stat Quo) | | Focus… | 4:06 |
| 13. | « We Ride For Shady » (Ca$his and Obie Trice) | | The Alchemist | 3:08 |
| 14. | « There He Is » (Bobby Creekwater) | | The Alchemist | 4:24 |
| 15. | « Tryin' Ta Win » (Stat Quo) | | The Alchemist | 3:52 |
| 16. | « Smack That (Remix) » (Akon featuring Stat Quo and Bobby Creekwater) | | Akon | 5:11 |
| 17. | « Public Enemy #1 » (Eminem) | | Eminem | 1:54 |
| 18. | « Get Low » (Stat Quo) | | Dr. Dre, Dawaun Parker | 3:19 |
| 19. | « Ski Mask Way (Eminem Remix) » (50 Cent) | | Disco D, Eminem, Luis Resto | 3:03 |
| 20. | « Shake That (Remix) » (Eminem featuring Nate Dogg, Obie Trice and Bobby Creekwater) | | Eminem, Luis Resto | 2:59 |
| 21. | « Cry Now (Remix) » (Obie Trice featuring Kuniva, Bobby Creekwater, Ca$his & Stat Quo) | | Witt and Pep | 5:09 |
| 22. | « No Apologies » (Eminem) | | Eminem, Luis Resto | 4:18 |
A écouter:
No Apologies (78,63)
You Don't Know (78,38)
Public Enemy #1 (76,84)
Détail des notes: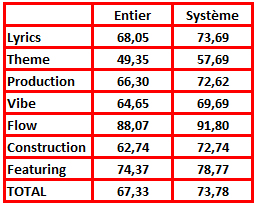 Les mots les plus utilisés: