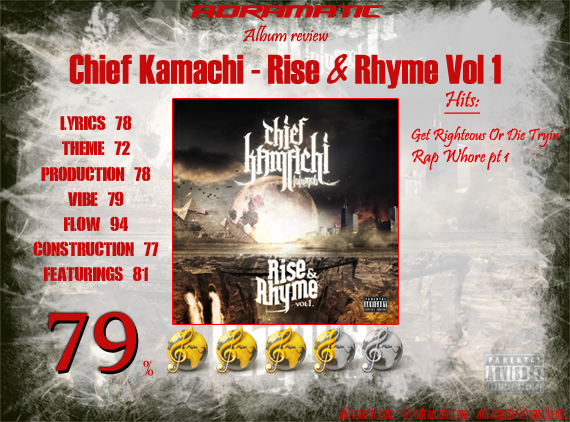 Bon album de Chief Kamachi qui manque cruellement au rap game. C'est pas super intéressant mais son talent lyrical et son flow imposant sur des instrus streets et percutantes en font un projet qui passe super bien à l'écoute.
Get Righteous Or Die Tryin
I talked to the karma king tryin to get the game score
It ain't red or blue, the color green start the gang war
Rap Whore Pt 1
Il personifie le Hip-Hop en la salope qu'elle est devenue.
Tracklist:
1 – 3rd Lecture
Producer – Cettybeats
2 – 90's Flow
Producer – Juhu Mutenia
3 – Chuck D
Producer – Audio Nacotics*
4 – Return Of The 7
Producer – Audio Narcotics
5 – Get Righteous Or Die Tryin
Producer – Audio Narcotics
6 – Patriot Gamez
Featuring – Columbo Black, Contra Psalmz, Killah Priest, Vendetta KingzProducer – JDV (2)
7 – Rise And Rhyme
Producer – Diract Beatz*
8 – RapWhore (Part 1)
Producer – Stu Bangas
9 – Barefoot Assasins
Featuring – Vendetta KingzProducer – Snowgoons
10 – Bulletproof Auras
Producer – Junior Machino
11 – Soul Soldier
Producer – Grand Riggety
12 – Hood Symphony
Producer – Big Boy (13)
13 – City Blocks
Producer – Knowledge*
14 – Saviour Of Ages
Featuring – G8ABAK, Vendetta KingzProducer – Lore Arcane
15 – The Gypsy
Producer – Vherbal
16 – Swift Angels
Featuring – Merc VersusProducer – Tunna Beatz
17 – Last Night In Babylon
Producer – Vherbal
Hits:
Get Righteous Or Die Tryin' (82,36)
Rap Whore pt 1 (81,32)
A écouter:
The Gypsy (78,31)
Chuck D (78,08)
City Blocks (77,57)
3rd Lecture (76,99)
Savior Of Ages (76,88)
Return Of The 7 (76,43)
Rise And Rhyme (76,11)
Meilleur thème: Rap Whore Pt 1
Détail des notes: